---
SCOUTING'S FAQs
---
---
WHO CAN JOIN SCOUTING?
All youth (male or female), ages 5-7 BEAVERS, 8-10 CUBS, 11-14 SCOUTS, 15-17 VENTURERS, and adults 18-25 ROVERS, and 18+ SECTION LEADERS, are welcome to join the Scouting Movement.
---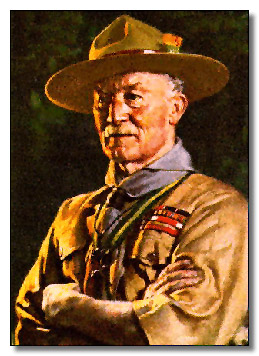 ROBERT BADEN-POWELL
Founder of the Scout Movement
Click here for more information.
---
SCOUTING'S MISSION STATEMENT
MISSION
To contribute to the development of young people in achieving their full physical, intellectual, social and spiritual potential as individuals, as responsible citizens and as members of their local, national and international communities through the application of our Principles and Practices.
PRINCIPLES
Scouting is based on three broad principles which represent its fundamental beliefs.
Duty to God: "Adherence to spiritual principles, loyalty to the religion that expresses them and acceptance of the duties resulting from them."
Duty to Others: "Loyalty to one's country in harmony with the promotion of local, national and international peace, understanding and cooperation", and, "Participation in the development of society, with recognition and respect for the dignity of one's fellow-being and the integrity of the natural world."
Duty to Self: "Responsibility for the development of oneself." This is in harmony with the educational purpose of the Scout Movement whose aim is to assist young people in the full development of their potentials.
---
Monday, September 22, 2014
Copyright © Knottwood Scouts 2014