186th Knottwood Scouts, Edmonton, Alberta, Canada
Our Troop has been active in the Knottwood community in Southeast Edmonton for twenty-three years. We are a coed group with a current youth membership of eight, assisted by four adult leaders. The Knottwood group has active Beaver, Cub, & Venturer sections, and all of us are assisted by a dynamic Group Committee. We enjoy most outdoor activities, such as camping (we had a blast at the Alberta Jamboree - AJ99, the Canadian Jamboree - CJ01, Jambec '02, Pacific Jamboree - PJ'03, EuroJam'05 in England, CJ07, SJ09, CJ13), caving, canoeing (we seem to have a "c" thing going there!), hiking (well the leaders like to anyway), and skiing/snowboarding. Check out our "Upcoming Events" section for future adventures.
The essence of the 'Scouting Movement', can be summed up by Scouting's Mission Statement (refer to the FAQ section of this site). Leadership & Teamwork skills are two of the most important character elements that enhance the make-up of a happy & successful individual in our society. The Scouting program is designed to help facilitate the development of these attributes. The youth improve their skills & gain experience through their involvement in the program activities, & through the examples shown by their parents, & the Leadership Team.

The Leadership Team endeavors to instill a sense of pride in the youth, for being part of this very special 'movement', & for their accomplishments as a member of the 186th Knottwood Troop. Our hope is that the skills that they develop, & the pride that they feel w/ accomplishment spills over into all areas of their lives.

This Troop is a 'youth driven group', & when it comes to setting & accomplishing their goals, the Scouts are limited only by their desire to learn & to challenge themselves. This next year may be the most challenging year yet for the 186th Knottwood Scout Troop, but then, that'll be up to each of the youth.

The Troop in front of Cameron Falls, Waterton National Park, July 1999
WHO WE ARE. . .


CHECK OUT THE YOUTH!




CHECK OUT THE LEADERS!
CONTACT US! - DROP US A NOTE!
or SIGN OUR GUESTBOOK on THE LINKS PAGE!: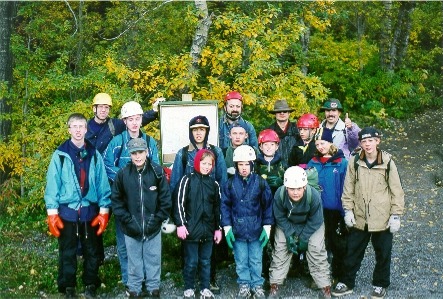 The Troop ready to climb up to the Cadomin Caves, September, 1999.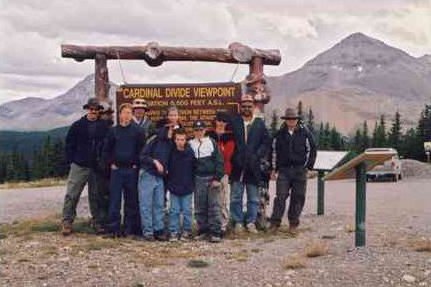 The Cardinal Divide, August, 2000
YOUTH + (Parents & Leaders) = SCOUTING!